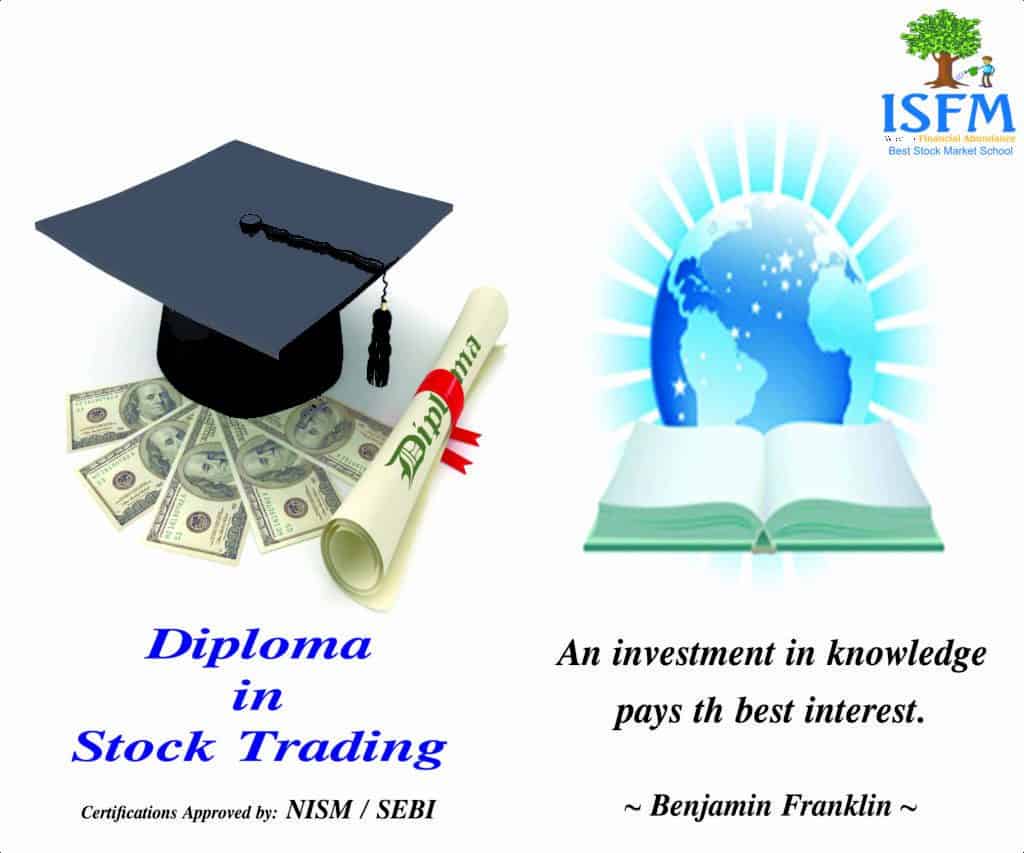 Diploma in Stock Trading is a  short term ( 2 Months) course for those who want to learn stock market from root level. After completion this course participants get expertise in  online stock trading so that they can get good return from their portfolio.  We help investors to understand how to became a rising start of the developing Stock market trading in India.  House wives, Retired person and working professional can easily earn on daily basis after share market training by our professional trader.
Students who wish to make career in stock market will be prepared for NISM / SEBI certification during this course. On behalf of these certification they can start their own Sub Broking business as well as Job also. India is having only 3 cr. Demat account till now  and half of them is dormat a/c, which is less than 5 % of the total population of the country, only few people having knowledge about BFSI industry. BFSI required huge no. of people who have experience / knowledge in this field. The students of this signature course will get to understand the beliefs, principles, strategies and psychology of some of the successful and eminent Investors and Traders like Benjamin Graham, Warren Buffet, Peter Lynch, William o Neil, Edward & Maggie and John Murphy. As this course is specially designed idolising the valuable and great work done by them in this field.
Who Can Join
Graduate
Post Graduate
Management students
House wife
Retired people
Stock Broker
Mutual Funds Houses
Bank
NBFC Companies
Investor
Trader
Hedger
Teacher
What You Will Get After Joining
Free Demat A/c
Free Online Trading Software for life time
Free Mobile App for life time
Free TA Software for one month
4 Books
4 PPTs
Live Case Studies
One Year  Fee Validity
* Any One who is having interest in Financial Market
Fee Structure
| Course | Fees | Duration |
| --- | --- | --- |
| Complete Course | 35,000+GST | 2-3 Months |
| | 32,000+GST (One Time Payment) | 2-3 Months |
* Note: SEBI & NISM Examination Certification Fee Is Extra.
Modules Covered
Equity Market
Introduction to Indian capital Market
What is Primiry and Secondary Market
Basic Pros & Cons of Capital Market
How to buy / Sell Shares using trading software
Legal Framework of the market
How to use stop loss during Intraday trading
What to do and don`t in the market
How to start Trading / Investment
How to make good portfolio using divesification rule
How brokerage and taxes can be calculated
Live trading exposure with case study
Regulating framwork in India and Investors protection
Investors Grievances and SEBI guidelines
Various free knowledge sharing resources and best books for investor
Derivatives Market
Introduction to Equity Derivatives
Basic Trading rules of Derivatives market
What is future and options market
Trading overview of Derivatives Market
Clearing and settlement of Derivatives contract
Legal Framework of working in F&O market
How to use Derivatives as a profit making tools
How to make Options Trading strategies
How to Hedge portfolio using Derivatives
How to calculate brokegare in future and options
What to do and don't
How to rollover the position for next month
How to coordinate with global commodity market
Clearing and settlement procedure
Basic rules and regulations of Trading
What to do and don`t
Commodity/Currency Market
Introduction to Commodity & Currency Derivatives
Basic rule of trading in volatile market
How to maintain MTM in market
How to link commodity & currency market with Equity market
Legal Framework of market
Basic rule regulation of the commodity & currency market
What are regulatory guidelines
How to start Trading in world's longest market
How brokerage can be calculated
Technical Analysis
Introduction to Technical Analysis
Japanese Candlestick Charts
Dow Theory and it Tenets & Criticism of Dow theory
Analysis of Different Trends in Markets
Support and Resistance and its effective uses
Percentage Retracements
Major Reversal Patterns : Head and Shoulders, Inverted Head and Shoulders, Double and Triple Bottoms, Rounded Bottoms
Major Continuation Patterns : Triangles, Flags and Pennants, Flags and Pennants etc.
Volume and Open Interest
Combining Option Sentiments with Technical
Long Term charts Vs EOD Charts
Moving Averages and its uses for buying and selling signal
Oscillators ( RSI, MACD, Stochastics, etc)
Combing Fundamental Analysis with Technical Analysis
Testimonials

Rashmi Pushkar
Best Institute to learn stock market training in Gurgaon

Varun Aggarwal
This is best institute for stock market course.

Rama Aggarwal
ISFM is a very nice place to learn about derivatives market. Its best place to build your career in stock market. Faculty is experienced , helpful and cooperative.

Satish Kumar
Very best & cooperative institute

Pooja Chauhan
Thanks to ISFM to trained in stock market, Now I feel my career is bright and I feel independent

Raksha kumari
The way they teach us it's very nice ...about any Query any questions they are always welcome and get it clear

Devendra Singh
Great experience with live market stock trading

Smriti Anand
Awesome experience . enthusiastic teachers, new techniques and an inspiring learning atmosphere. I had a great time and I learnt a lot through out the course. I am thankful to Sushil sir and Anil sir for all their support and guidance

Vikas Yadav
Hello everyone. I am a final year DU LLB student. I always had this curiosity to learn more about the share market. I searched a lot nd finally found this institute. The course consisted of more of practical knowledge than theoretical

Dinesh Gupta
Hi, I joined institute to know basic knowledge about equity as a investor. During training I came to know lot of other way if equity market which is out of knowledge by a common man. …
Gaurav Shrama
Very good institute for all your share market related topics and queries. Recommended
Sachin Gupta

Akshya Yadav
GREAT EXPERIENCE !!!! TEACHERS ARE PROFESSIONAL AND THEY ALWAYS MAKE THE TOPICS VERY EASY TO UNDERSTAND

Bhumesh Sir
Best stock market school to learn share market training in Gurgaon and Delhi NCR

Monika Kaushish
Technical method is very good. Great teaching and communication.