March 31, 2019
No Comments
How to make career in Stock Market ?
How to start business in Stock Market ?
Career in Stock Market having vast opportunities in India. Indian Stock Market is developing with passage of time and penetration of stock market is very low as compare to others developing country. You can cross check the fact by total number of Demat a/c is only 3.5 Cr out of 136 Cr. Peoples. It is again surprising that only 50 % Demat a/c is active rest of the demat are doormat.
Securities market facing shortage of skilled person. Only few people who have knowledge about this industry are investing directly, rest are giving money to mutual funds, insurance etc. If we just look around the world like US and Europe 40% people are investing in stock market are directly. But in Indian numbers are less than 5% which is showing endless opportunity.
Indian economy is just surpass the France and stand $2 trillion. Now mutual fund size is just 25 lakh Cr. Which is 12% of the total economy. It is very less again as compare to the others countries. Now whatever development is going on in western culture same would be possible in India due to cultural effects and demands.
ISFM – Best Stock Market School have prepared a details reports on this sector and found that it is much better to enter in this sector as compare to overcrowding sector like Engineering etc.
Types of Work in Stock Market : –
Job point of view
Business point of view
Job point of view :-
If anyone is looking for job in this sector then candidate must have the good conceptual knowledge of the stock market so that he / she can understand duties and responsibilities during the work. Now there are list of the qualifications which you can enroll for this sector so that you will get more weight as compare to fresher.
Types of Qualifications : –
Full Time Education :-
Part Time Courses:-
CFP – Certifies Financial Planners
CFA – Charted Financial Analyst
After completing these courses you can enter in to the market and can convert your theoretical  knowledge in to practical task. Its required one to two year to sharp yours trading skills to handle fund of the clients. Once you get expert to generate ROI from market your career ladder will climbed very high.
We can understand all this hierarchy of the things from the picture given below : –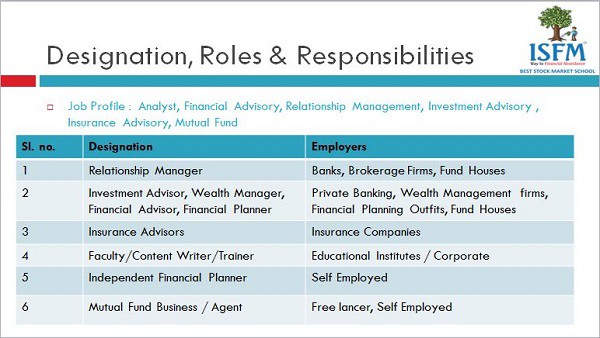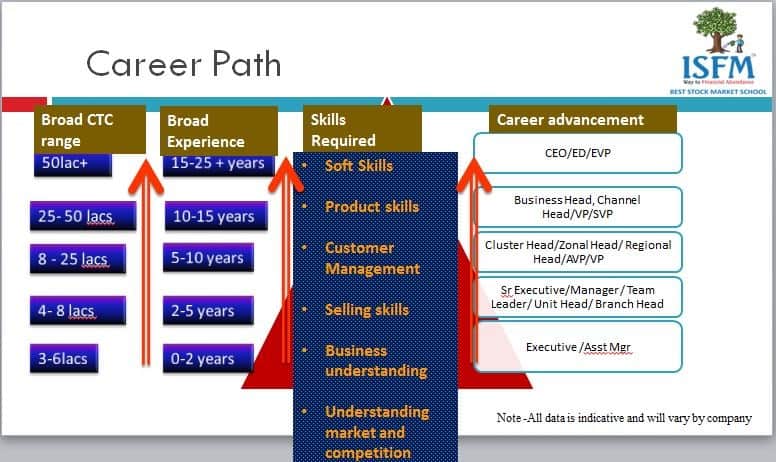 Business Point of View : –
We are personally more aggressive on business or self employed model in stock market because of high potential of growth. Now everyone know you need a huge capital to start a new business but after all there is no guarantee that our business will be success. It might because of competition or any others else. You also required to take high risk and need to work hard to promote your business.
But in stock market your advertisement, promotion role is handled by regulators and others entities now a days. Govt. is very bullish on this segment and making entrepreneur friendly policy to boost this sector. Hope you also seen "Mutual Fund Sahi H" campaign so many times. Well established player in this sector are working on welfare due to CSR activities. SEBI which is most active regulator in our country organizing time to time investment awareness program in different part of the country.
Types of Business category in Stock Market : –
Sub broker or Stock Broker
Mutual Fund Agent
Arbitrage House
Proprietor Trading House
Investment Advisor – Independent
Equity Research Company
Sub Brokers / Stock Brokers : –
Indian stock market is one the most regulated stock market in the world thanks to SEBI for all reforms have been taken since of its inceptions. Its very easy to be a Sub broker /  Authorized Participants now a days. You just need to contact a well – established brokers, I will recommended in top 10 brokers in India only. You required one to two lakh capital to start this business along with NISM certification.
If you want to become a Stock Broker then you need 2 Cr. Capital and have to fulfill the SEBI'S criteria. To be a full fledge broker there is lot of formalities that you need to fulfill even after getting broker tickets. But you don't want to acquire client then you can apply for proprietor trading desk in this segment.
Only 25 lakh required for mini broker setup.
Mutual Fund Agent : –
Mutual fund is one of the most favorite product for investor. If you want to take benefits of this era then you can become a AMFI Reg. Mutual fund agent. You have to pass NISM Series V – A distributor exam. After that you can apply for ARN number and sell mutual fund policy to clients. Mutual fund agents are getting commission twice in industry which is very lucrative. First one is upfront and second is trail commission. Mutual fund business is expanding from metro city to tier -2 city also.
Arbitrage House : –
Arbitrage is very old form of trading in stock market but it is new for Indian investor.
To know more click below mentioned link :-
Proprietor Trading House : –  
Small and medium enterprises now a days working on quants trading model and working as a proprietor trading desk.
Delhi and Mumbai are having most of these house. Currently 40% turnover in Indian stock market is based on this model.
Investment Advisor : –
Investment advisor is one of the most attractive option after you complete SEBI Investment Advisor certification. Registered investment advisor is very new in India but it is very common in UK and USA. Being a advisor you can get paid by client for advising investment options and financial planning.
How to Start in real life : –
Without implementation knowledge is poison. So you must have to know how to take right action at right time. Just to become a sub broker or any other form in this market you need to learn first. Education always pay the best interest and if it is financial education then its worth become more worthy. It is best source of passive income in world which is proven also by so many legend-er like Mr. Radahkrishan Dhamani, Warren Buffets, Rakesh Junjhnuwala etc.