July 14, 2019
No Comments
India's final budget 2019 have been presented by our honorable finance minister Nirmala Sitharaman.  Even a lot of benefits have been declared for common man and high surcharges for super rich person but the hidden gems that you are unable to see  ISFM – Best Stock Market Training institute in Gurgaon will disclose for all investors.
Cause : Minimum public holding in listed company from 25% to 35%
Effects : Now promoter and MNC companies have  mandated to dilute their stake very soon and have to comply with this order. No further extension for this order or timeline given.
Opportunities for trader / Investor :  If promoter will reduce their stake then a handsome selling volume will increase and stock price would be fall. People who know the short selling in stock market will get benefited from market.
To understand What is Short Selling you can click on below link :
https://isfm.co.in/what-is-short-selling-in-stock-market/
We have so many large camp companies which have more than 70% of promoter holdings. Even more promoter holding can is not good for minor investor because promoter of the companies can dictate the share price.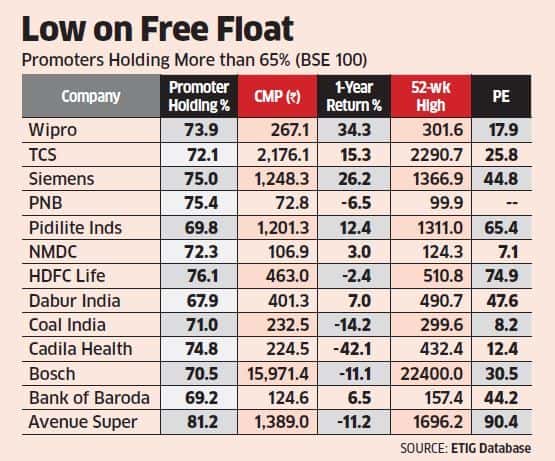 Image Source :  Economics Times
Benefits for diluting the promoter share :
Free Float market capitalization will increase
Stock Price come in range of a common investors
Monopoly of the promoter will decrease
Volume of stock will increase so that stock delivery percentage will increase
India weight in world MSCI indices will increase.
Promoter have to distribute more profits to its share holders.
 What is Free Float Market Capitalization in stock market :
Free Float Market Capitalization means total numbers of share availbal for freely buying and selling in the market. For example if a promoter have 1000000 share of any ABC companies and he have sold only 250000 share to public via IPO or other routes. Then Free float market capitalization is only 2.5 lakh. Rest of the share promoter having and market liquidity is low due to his high stake in company.
 India's Comparison with world in Free Float Market capitalization of shares :
India is having only 50% free float of share in market which is very as compare to rest of the world.

Image Source :  Economics Times