Why you should read this post.
What is Sensex ? 
Know the Interesting fact about Sensex.
Sensex vs Gold comparison for ROI.
Sensex is one of the oldest stock exchange in Asia. Sensex was launch on 1st April 1986 but it base year was chosen 1979 at base value of 100. In 2019 Sensex turn 40 year old and its journey from 1000 to 39000 in different scenario of market phase, frauds, political condition etc.
After 40 years of the its long journey only 5% of India population know about how actual Sensex work. So today ISFM – Best Stock Market School tell you history of the Indian indices in simple language with its milestone.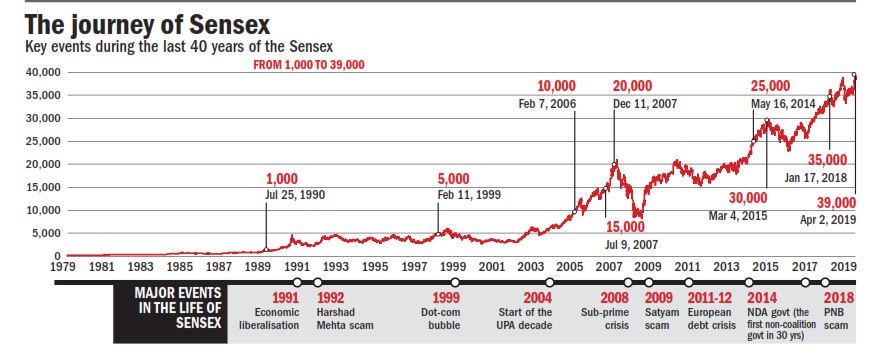 What is Sensex : –
Bombay Stock exchange is managing a index which is comprises of top 30 companies by market capitalization. Top 30 companies  can be change if the market cap any other companies increase.
Sensex word is a combination of sensitive and index which was only one real time index that time. Sensex CAGR since its launch from 1979 to 2019 is 16.1%.
Sensex Calculation Formula: –
There is two kind of method to calculating stock exchange in the world. First is by market capitalization and second one is equal market share. In our country we are using first one to calculating the real time value which formula is given below: –
 Current Market Capitalization / Base Market Capitalization * Base Value ( Given by Govt.)
Top 30 Companies in Sensex in 1989 to 2019
"Fittest is survival"  formula is given by Charles Darvin is absolutely correct. Only few companies survive after 40 year of completion of Sensex.
HUL
ITC
Reliance Industry
Tata Motors
Tata Steel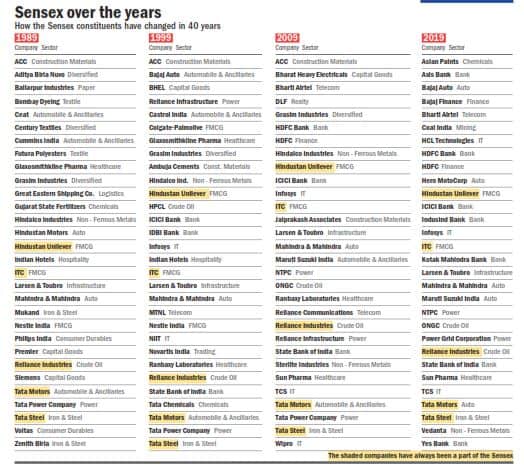 Sensex Vs Gold:-
Gold is no more favorite product of Indian. Now everyone is comparing Gold return vs others product. So a wise investor always check alternate of investment time to time to grow wealth.

Nothing is permanent is this world. Time destroy every beauty in this world. These proverbs are bitter truth and Sensex is proved in this chart. When it started then FMCG sector was dominating now BFSI. Investor have to change time to time stock in his portfolio as per demand.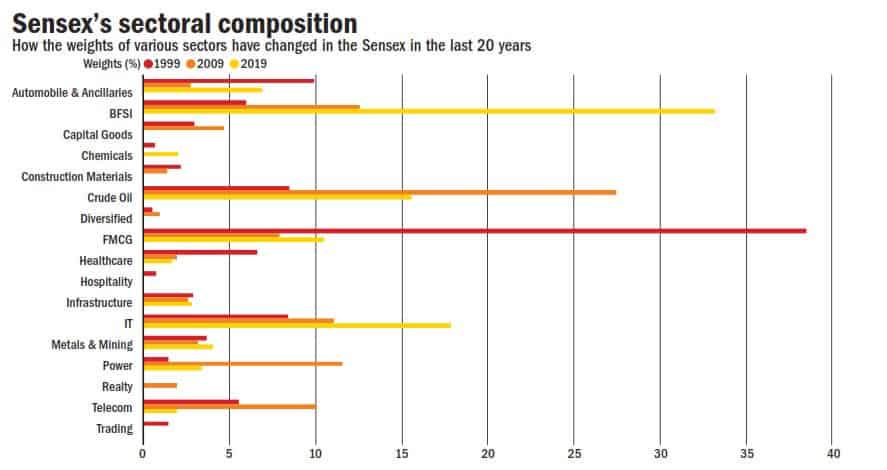 Ownership Structure of Sensex : –
Being a private exchange Sensex is always dominated by brokers. Foreign Institutional and Domestic also have good participation. Now BSE launch its own share also last year in market.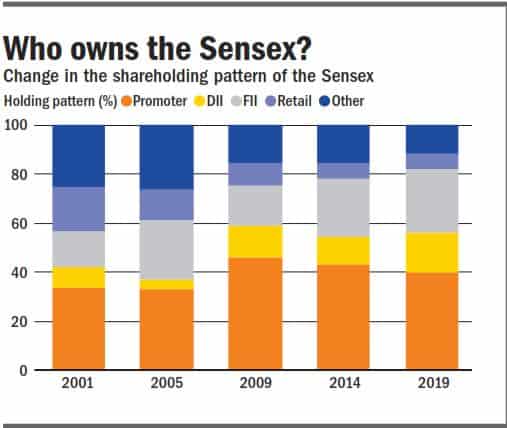 Sensex vs GDP : –Sensex is barometer of the market. Approx more than 4000 companies are registered under SENSEX.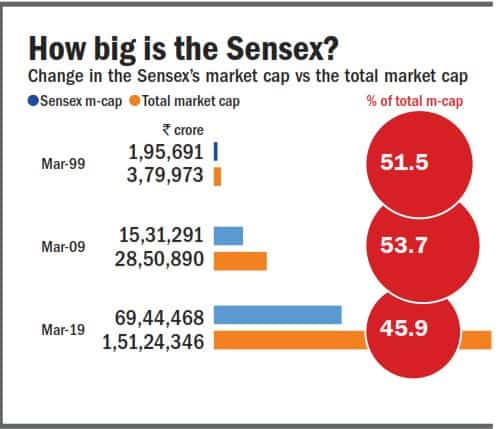 Ratio Analysis : –
Sensex current  PE ratio is all time high as per market analyst.

Source : Charts and figures by Value Research Online Magazine May 2019 editions.