ISFM having a vital range of services. We are providing 360 degree Awareness on Financial services.
Investors Awareness & Training Services is handling by Northern Investors Association (NIA) which is a Education society (Registered with Haryana Govt.) of ISFM and run by free lancer Trainer / Volunteers who are working professional in corporate and provide excellent advice without biasness..
About Northern Investors Association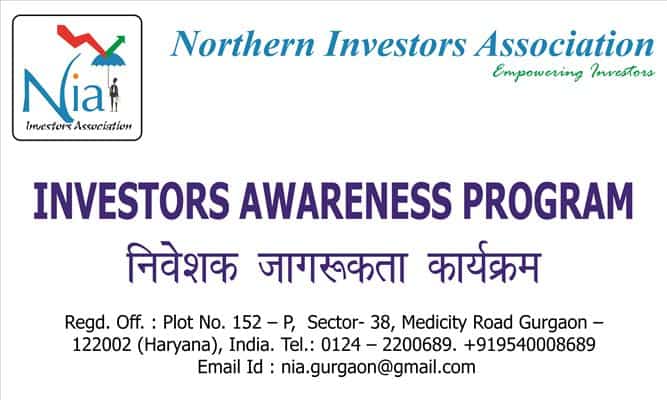 Northern Investors Association is a platform for investors where they can share their experience, ideas, strategy to deal with market and its intermediaries of financial market. NIA will help investors to know investors grievances and redressal system in our country. We raise the investors voice to the respective regulators on behalf of the investor. We also conduct free financial literacy & Awareness program to educate the investors and distribute the free study material among them. NIA motivate youths to enhance their knowledge about financial instruments so that they can contribute in national saving and investment. We also guide students to make career in financial services, which is one of the skill shortage area in India. If you facing any problem regarding any intermediaries either you have cheated by or victimize by any one you can contact to us.
The Aims And Objectives To Be Pursued By The Society Are:
To promote Ethical Investment concept in the Society.
To conduct Investors Awareness Program (IAP) / Workshops / Camps for different targeted groups in Rural, Sub-urban, Urban areas and other parts of Haryana State.
To teach school students and college youth regarding money management skills and motivating them for savings and financial planning.
To conduct the career awareness workshops for youth in schools and colleges, Universities.
To help the people to understand the Customer Grievances and Redressed there of under the rules of state govt. / central govt. of India.
To Motivate the people and community in general to convert their savings into laid down and result oriented investment.
To Promote The Govt. authorised investment plans & products among the general public and helping them to avoid any kind of fraud / fraudulent activities being occurring daily in the market.
To guide investors what are dos and don'ts in the market.
To promote financial inclusion concept in the market.
To help investors to put the complaint against intermediaries.
To Liaising with Regulators and raise Investors voice for reforms in financial market
To help people to understand the financial products and its utilities.
To Work for creation of new contents / trends regarding modern financial planning.
To promote digital investment concept among the general public.
Kindly contact us to conduct free Investment Awareness Program at your premises : +919540008689, 0124-2200689