January 27, 2019
No Comments
Dear Investors /  Traders Union Budget 2019 is a very special movement for the stock market. It's a annual occasion and everyone who want to earn from stock market volatility always wait for such kind of movement.
If we study the past record then you will find market never like the budget because of so many high expectation. Pre Budget rally always give a positive swing to the market and post budget market show some correction mostly but within one month to three months market always recovered also.
But I am expecting this union budget would be special and most populous budget till now because it is last budget of NDA govt. and they will try their best to pleased the public. We can get the income tax rebate of 5 lakh   rupees also and many more change can be happened that was pending from last 4 years.
ISFM  – Best Stock Market School in Gurgaon has formulated special strategy for Union Budget 2019 season which help the investor to earn maximum return from market using limited amount of the money. We are expecting that stock market would be volatile due to upcoming events like budget and elections also.
Name of Strategy
Long Strangle
Out look of Market
Volatile
Underlying Assets
Nifty 50
Investment
11450
Max Risk
11450
Reward
Unlimited

 

Time frame
Max One Month
Quantity
One lot only
How to implement the Strategy : –
Before you implement the strategy you must check that options trading must be active in your demat account. If it is not then you can contact to your broker and ask him to activate. Then you can follow the steps given below : –

Buy 11100 28th Feb 2019 strike price call @ 66 Rupees.
Buy 10400 28th Feb 2019 strike price put @ 87 Rupees.
Wait for the budget movement and don't sell the any option before 153 at least to cover the break even point.
You no need to pay again for this trade and neither averaging required.
How you will get profit : –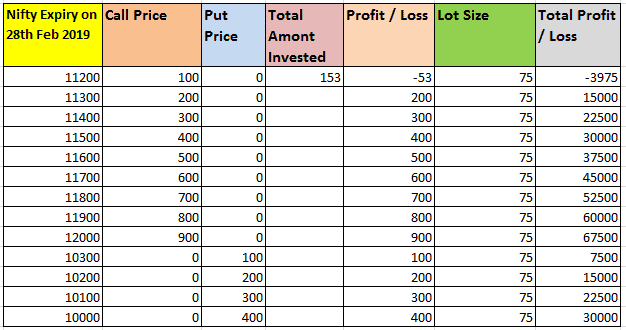 Note :  Post is only for education purpose kindly invest at your own risk. ISFM will be not responsible for any kind of risk associated due to live trading.