December 14, 2018
No Comments
Dear Sir / Madam,
We are happy to inform you that ISFM – Stock Market School is organizing a Free seminar on "Astrology of Stock Market" on this Sunday, 16th Dec. 2018. Interested person can join by giving prior information to us.
Important details :
Topic        :  "Astrology of Stock Market"
Date           : 16th Dec. 2018
Time           : 01:00 PM
Venue         : ISFM – Stock Market School, 152 – P, LGF, Sec -38, Gurgaon
Route Map : https://goo.gl/maps/chVHdepouem
Contact       : 0124-2200689, 8368025252,888603088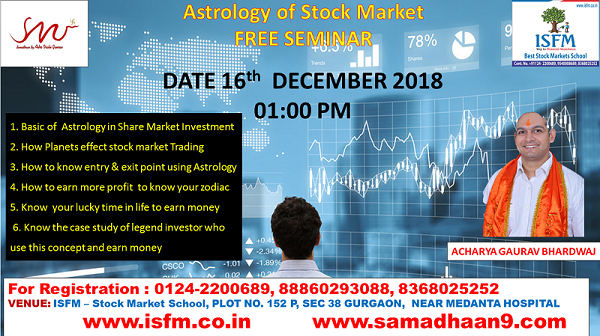 Major contents : 
1. Basic of Astrology in Share Market Investment
2. How Planets effect stock market Trading
3. How to know entry & exit point using Astrology
4. How to earn more profit to know your zodiac
5. Know your lucky time in life to earn money
6. Know the case study of legend investor who use this concept and earn money

About Trainer : –
Acharya Gaurav Bhardwaj is  B. Tech in instrumentation & control. He is a certified Acharya & having the vast experience of 28 years in the field of astrology.
From last 6 years he is teaching different aspects of Astrology. Also giving exact predictions on market Crashes/ jumps from last 15 years. He has explained the detailed concept of correlation of planets & nakshtra , which gives the prediction of negative and positive impacts on share market in many article publish by print media.
Acharya ji teaches the concept of your birth planets, on which your gain & loss from the market depends.
Also predict the favorable & unfavorable time of your life or the exact time when we should invest or not.
Worked for:–
Cabinet Ministers Of center & state govt.
Property & share Market investors.
Top most surgeons.
Presidents & VIP of different political parties & many more.